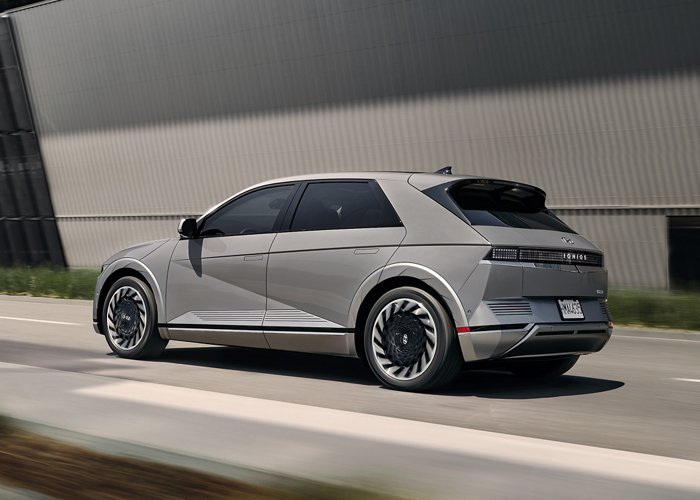 Green Car Journal selected the all-new 2022 IONIQ 5 electric crossover vehicle from Hyundai as this year's Green SUV of the Year. The director of product planning at Hyundai Motor North America commented, "Hyundai is honored to have the all-new IONIQ 5 named as the Green SUV of the Year by Green Car Journal, the leading authority on electrification and environmentally sustainable vehicle choices." Find out why the new Hyundai is sweeping away the competition.
About the Award-Winning Crossover
Hyundai released the IONIQ 5 as the first in a new era of electric vehicles. This new model was unveiled in February 2021 and has already started receiving critical acclaim. A distinguished jury of automotive experts and Green Car Journal staff partnered up to award this prestigious honor. The IONIQ 5 was recognized thanks to its advanced electric drive architecture, an array of desired tech features, and forward-looking design. It was touted as a great option for any driver interested in joining the all-electric future.
The 2022 IONIQ 5 is built on a dedicated electric platform that both enhances performance and optimizes interior volume for a more spacious compact SUV. It is also best-in-class with ultra-fast charging thanks to a 350-kW charger. The crossover offers a range of about 300 miles and can charge from 10 percent to 80 percent in just 18 minutes.
Car Buyers Agree
The award-winning crossover experienced immediate demand as it saw 36,000 expressions of interest within the first 24 hours. This popular interest has been met with similarly enthusiastic critical acclaim, as well. The 2022 IONIQ 5 offers an unrivaled choice in the EV market with cutting-edge technologies, ultra-fast charging, and a striking design.
2022 Hyundai Tucson Gets a Nod from Green Car Journal
Additionally, the all-new 2022 Hyundai Tucson with hybrid and plug-in hybrid variants earned Green Car Journal's 2022 Product of Excellence honor. This acknowledges the important environmental achievements of this longtime favorite from Hyundai. The plug-in hybrid model's 13.8-kWh battery pack is said to offer up to 33 miles of electric-only driving. A 7.2-kW on-board charger allows the battery to be fully recharged in about two hours when connected to a level 2 charging station. The hybrid achieved fuel efficiency ratings of 38 MPG in the city and on the highway. The plug-in hybrid model earned a rating of 80 MPGe combined. The Hyundai Tucson hybrid and plug-in hybrid are offered at Hyundai dealers in New York in the following three trims: Blue Hybrid, SEL Convenience Hybrid, and Limited Hybrid.
Visit a Hyundai Dealer in New York
Hoping to get behind the wheel of an eco-friendly SUV this year? Visit a Hyundai dealer in Long Island, Queens, or Farmingdale to check out the all-new IONIQ 5 or the Tucson hybrid or plug-in hybrid options. Green car enthusiasts can discover the features of these award-winning vehicles, take a test drive, and get a great deal on their lease or purchase.